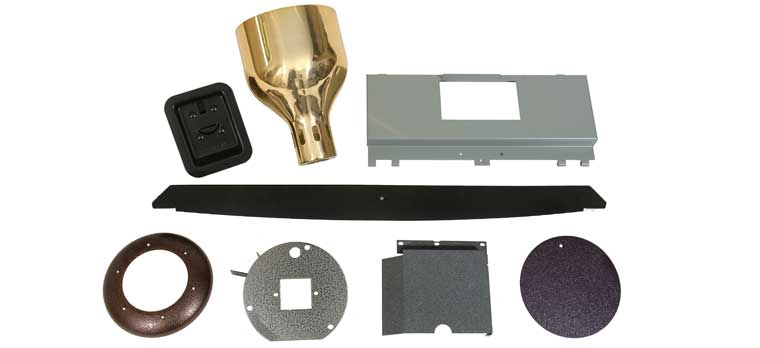 Powder Paint
Powder paint is an environmentally safe alternative to solvent based wet paints since there are no VOC's. In addition, powder offers many advantages over wet paint. The finish is consistent and free of runs, drips and sags.
How it works:
Powder paint is negatively charged by the gun applicator as it is sprayed. It adheres to the grounded metal (ferrous or non-ferrous) part to be coated.
The part is then cured in an oven. As the powder loses its charge in the oven, it begins to melt to the substrate.
Normal film builds range from 1.5 to 5 MILS. Though thicknesses outside this range are attainable if needed.
Advantages of powder coatings:
Highly decorative finish available in a wide variety of gloss levels, colors, shades, and textures.
Very durable, impact resistant, chemical resistant (particularly epoxy and powder coatings)
UV resistant (polyester/urethane formulations)
Increased edge coverage
Electrical insulation
Increased flexibility
Powder paint is used in a vast array of industries, including:
Automotive parts
Motorcycle parts
Food processing equipment
Office furniture/equipment
Lawn furniture
Toolboxes