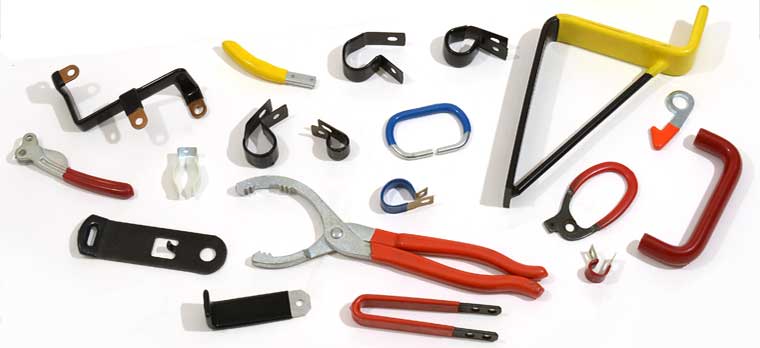 Plastisol/Dip Molding
Plastisol coating is a liquid vinyl that is formed to metal product by heat. The part to be coated is preheated and dipped into a tank of plastisol. The part is cured in an oven after dipping. Typical process temperature ranges from 500-600 F.
Plastisol allow for build thicknesses up to 1/4". This enables plastisol to possess excellent noise reduction properties. Other uses include:
Military Equipment (spec. P-20689 & A-A-59464)
Sharp edge coverage
Insulating properties (thermal/electrical)
Non-slip applications
Corrosion protection
Impact and wear resistance
Typical items coated with plastisol include:
Tool handles
Clips
Medical instruments
Plating racks
Exercise equipment
Playground equipment
Material handling baskets
Specific formulations adhere to military specifications and FDA/NS regulations.
A range of colors are available. Choose from one of our stock colors or request a custom match. High gloss or dull finishes are available.